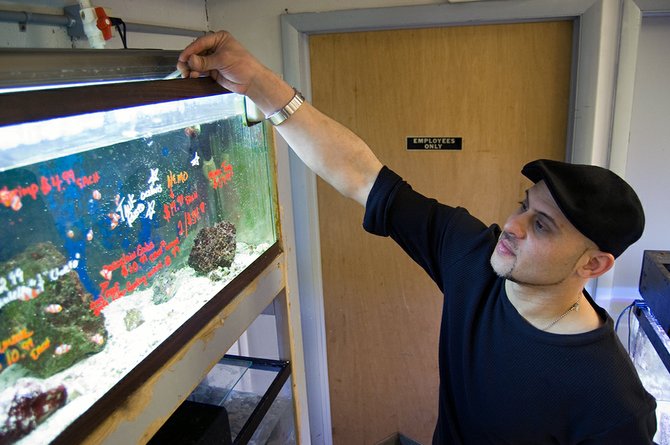 SCHENECTADY — For David DeLugo, buying a business that's completely underwater sounded like a dream come true.
After 23 years of running Union Aquarium in Schenectady, owner Paul Sartoris is selling the business to a longtime employee who is stepping forward to keep the shop afloat.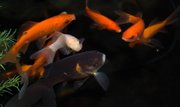 DeLugo, of Glenville, purchased Union Aquarium from Sartoris shortly before Thanksgiving after working at the business for 10 years. DeLugo, 36, will manage the 110 aquariums and more than 2,700 gallons of water that house a vast collection of freshwater and saltwater fish, along with coral and live rocks. Upon entering the store, most people will notice the two stingrays, too, unless they're hiding under the black, sandy floor of their tank.
"It is a labor of love," DeLugo said. "I leave here and I work on tanks at home, too."
The vast collection might be a lot to take on, but Sartoris and is daughter, Karen Bonk, are helping DeLugo with the transition from employee to owner.
DeLugo's interest in keeping fish as pets started when he was about 13 years old after visiting his aunt in New York City.
"She had me help her setup a little saltwater tank," DeLugo said. "After college I got back into the hobby. I never had a saltwater tank, but I knew the basics from learning it from her."
He became an avid hobbyist and initially he had developed a relationship with Sartoris through visiting the store.
"I would come in at least once or twice a week and we would chitchat," DeLugo said. "He's got tons of information and knowledge on the hobby before it was even a hobby."
Sartoris wasn't well versed in saltwater fish and he would ask DeLugo questions, but this led to DeLugo working for him part time.
"He gave me complete control over the saltwater part of the business and after a few years I think he saw it was working … he saws sales increasing," DeLugo said.
(Continued on Next Page)
Prev Next
Vote on this Story by clicking on the Icon