COLONIE — As a 66-year-old retired teacher, Colonie resident Pat Audi worries about the winter months.
It's not driving on slick roads or losing power in a storm that bothers her, it's the simple fact that with dropping temperatures, she'll see higher utility bills and start having to make tough choices.
"I have to pay my bills first, and then what's left over is mine. I'm not starving to death, but I'm very careful how much is spent on groceries," said Audi, whose heating bill is on average $400 a month during the winter.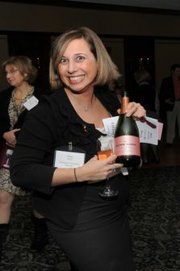 That was until about three years ago, when Colonie Senior Service Center Executive Director Ed Neary sent Audi a letter informing her of a nonprofit program called "Warmth of Wine," a benefit that raises money for Colonie seniors to help with their heating bills. Since Audi is part of the Umbrella of Colonie, the home maintenance arm of CSSC, she qualified for the assistance and that year received a check for $250 to help with her bills.
"It doesn't sound like a lot of money but it really is. It adds to my overall budget amount. It helps me greatly," Audi said.
The problem that Audi and many seniors in the community face is they are living off fixed incomes – like Audi's $33,000 – that are not low enough to receive assistance from state and federal programs like HEAP, or the Home Energy Assistance Program. During the heating season, Neary said Colonie seniors see energy bills of up to $1,500.
"If you fall somewhere between middle class and really poor, there's no one to help you," Audi said.
Bill Hoblock, of Umbrella of Colonie, started the Warmth of Wine event with his wife, Kristin, eight years ago to ask younger people to help the senior population. Over the past seven years, the wine tasting benefit has raised more than $200,000. At this year's eighth event on Thursday, Feb. 28, Hoblock said they hope to hit the $250,000 mark.
(Continued on Next Page)
Prev Next
Vote on this Story by clicking on the Icon