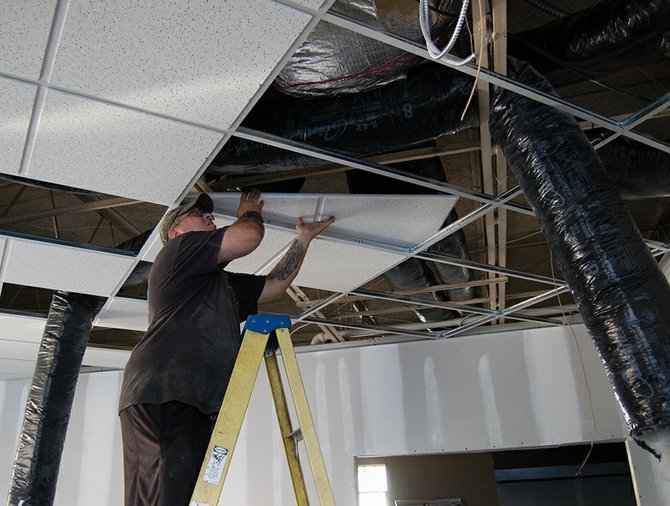 SCOTIA — "All I want to do is cook again," Scotia Diner Manager and Chef Terry Kyratzis said Tuesday, July 10, as he stood inside the restaurant's new location, which is beginning to take shape.
Kyratzis, son of Scotia Diner owner Anita, had hoped to open the restaurant months ago, but hurdles seemed to slow down a speedy reopening. The diner was forced to leave its former location just down the street on March 21 after being evicted to make way for an apartment complex. The diner's new location is at 114 Mohawk Ave. at the former Kem Cleaners.
Developer Bruce Tanski gave the diner owner 30 days to pack up before demolishing the former building, which now has wood framing sprouting from the new foundation.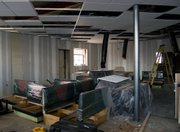 Stepping inside Scotia Diner's new location reveals new booths wrapped up just waiting for customers to order breakfast and relax with a strong cup of coffee. Large black tubs for air conditioning hang from the partially completed ceiling and received a successful test run.
"Everything is going to be brand new," Terry Kyratzis said. "It has got most of the decor from the old diner with the new coming in. We are just excited to get things moved around and just start locating and finally get everything in place."
The new diner will feature and expanded menu, but Kyratzis said he would continue serving customer favorites. One new choice will be artisan pizzas, he said, but he isn't looking to be "pizza shop."
The new convection ovens used to quickly serve up pizzas will also be used for bakery items. All of the baked goods served in the diner, such as bread and pastries, are planned to be made in-house to serve the freshest products.
The kitchen area is also more than double the previous location, which excites Kyratzis and will allow for an expanded menu to more easily be achieved. Previously, he said cooks were cramped and almost had to work on top of each other to speedily serve up orders.
(Continued on Next Page)
Prev Next
Vote on this Story by clicking on the Icon