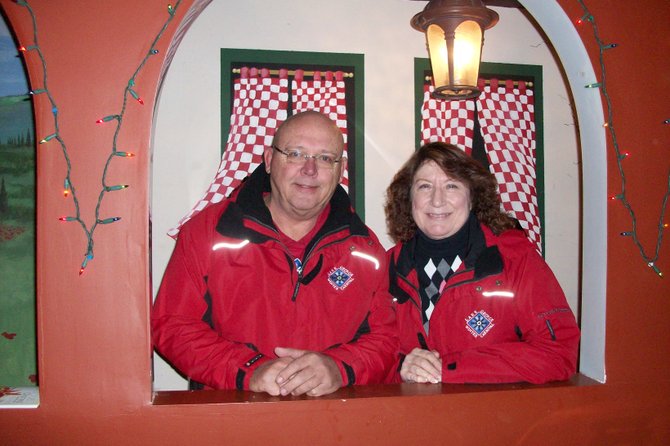 continued — Kokalas was instrumental in launching the weekly bonfires — complete with live musical entertainment — that are now an immensely popular feature. It was Kokalas — whose family enjoyed backyard campfires — that introduced the idea of Carnival-goers creating and consuming s'mores around the bonfires, a ritual that attracts hundreds.
Kokalas has also arranged to get area teenagers involved, lining up school clubs or the Warren County Youth Court members to conduct the children's games through the Carnival's four-week run.
Meanwhile, Kathi Kokalas served as treasurer during an era of transition, from a time of meager public financial support to more substantial municipal contributions that now assure the Carnival's tenure.
Also, she's served as the media contact, available at all hours, to provide information and publicity. During her years in the role, the Carnival's fame has increased, Nichols said.
Kathi's contributions, Nichols said, have been substantial in the minor tasks too — whether it was pasting identifying numbers on thousands of plastic forks for the cookoff events, answering dozens of inquiries on the Carnival's phone answering machine, assembling raffle gift baskets, or updating the event's Facebook page.
"Kathi and Ed have been so dedicated," Nichols said. "If we could, we'd never let them go."
The Kokalas' Carnival involvement started in 2003, when they were new local residents, and they ran into former event chairman Garry Grant, who urged them to get involved, Kathi Kokalas said.
"We worked for years to make it more family-friendly, and we've enjoyed seeing it develop and become more and more popular," she said.
The Kokalases said they are stepping away from leadership roles in the Carnival to pay more attention to Ed's parents who are 97 and 95, as well as take months off annually in Florida.
"It's time to loosen up our commitments," Ed said. "We've had a lot of fun, made a lot of good friends, and we're very honored to be chosen for this recognition."
Tickets for the dinner-dance, $45 each, are available at Prospect Mountain Diner, Duffy's Tavern, Mario's Restaurant and Tina's Hair Affair. Entertainment will be provided by Richie Ortiz and Total Entertainment deejay. Cocktails begin at 6 p.m. Dunham's Bay Resort is located on Rte. 9L on the east side of Lake George.
Vote on this Story by clicking on the Icon