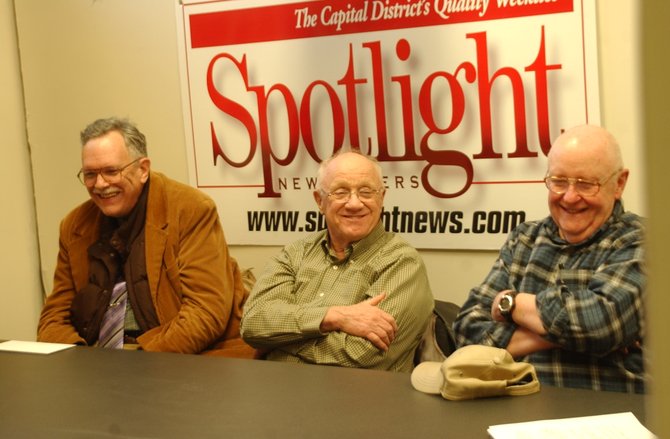 Not so long ago, joining the Second Milers was a matter of course for anyone in Bethlehem making the transition from working man to retiree.
"I retired in 1997, and the first thing I did was come to the Second Milers," Bob Morton said.
And why not? Unlike most clubs, the Second Milers don't charge dues. There are no nasty battles for office. Members don't have commit to a slew of service projects.
No, the Second Milers are a simple group. They meet once a month. They have lunch. They listen to a speaker. They catch up.
Several members who met recently to talk about the group's past, present and future summed up the Second Milers' appeal in one word: "Fellowship."
Retirement, they said, has a way of being isolating and maybe a little lonely. It leaves many men with only their wives for company, and some lose that, too.
"We're very welcome to widowers," Bill Schraa said. "Age has taken away a lot of spouses."
The thing is, age has taken away a lot of Second Milers, too. Earl S. Jones Sr., a retired lawyer, founded the club in 1964, and at its peak, some 200 men showed up for lunch. These days, 40 to 50 come.
The men of the Second Milers hope to change that in 2012. They invite others to check out their organization. They say they're a welcoming bunch.
"I didn't know any of these peeople before I joined," Glenn Cropsey said. "Now I consider them all friends."
• • •
Jones was spending the winter in Florida when he came up with the idea of creating a group for retired men when he came back to Bethlehem. He talked it over with the Rev. Robert B. Thomas, his pastor at the First United Methodist Church in Delmar, and put a notice in the church newsletter. It noted that "we are not interested in a formal organization .... but rather an informal gathering to promote good fellowship and become better acquainted."
(Continued on Next Page)
Prev Next
Vote on this Story by clicking on the Icon