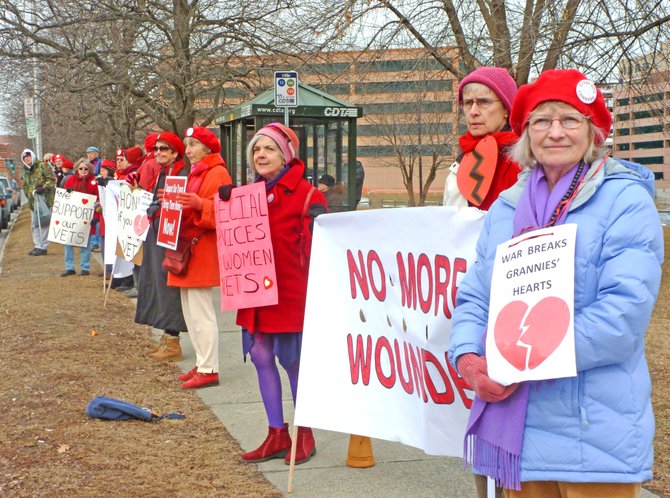 continued — According to Cooley, soldiers have had a deep connection with Valentine's Day for generations.
She said during the times when women weren't allowed in the military, women began to use the holiday as a way to spread peace and love to their husbands and sons when they were away from home. The day is still especially meaningful for those in the military away from their loved ones, so the group thought the day was an appropriate one on which to spread their message.
"We feel these veterans may not have given their life, but in many cases have given their quality of their life in battle and the rest of their lives will be a battle to try to survive and lead a normal life," Cooley said. "For that reason we don't think their healthcare should be compromised."
The group is lobbying to get veterans the same type of health care that members of Congress are entitled to. They are also seeking increased home healthcare for severely wounded veterans, increased mental health support for returning soldiers and increased support for women soldiers who may have been sexually assaulted during their time in the military.
"We've also heard it's hard for soldiers to get a second opinion on their condition without paying out of pocket and we would like that to change," said Cooley.
Cooley added officials from the hospital have been supportive of the group's efforts and asked the to continue lobbying, as the VA system has been affected by budget cuts.
"There was a young veteran there waiting for the bus when we were setting up," said Cooley. "He said that he would like to emphasize the fact that unless a war vet is labeled 'disabled' their medical care beyond the normal health care only lasts two years."
Housing and employment for soldiers upon their return is also an issue Grannies for Peace focuses on.
Vote on this Story by clicking on the Icon