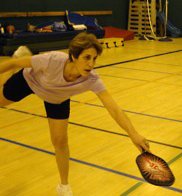 Peter Briscoe, an avid tennis player from Schenectady, found that 48 years of chasing balls around a tennis court started taking a toll on his back. Briscoe was afraid his days on the court were over until one day in 2004 when a friend suggested a game of pickleball.
 "He told me to give it a shot," said Briscoe, now 69.
 Willing to try anything, Briscoe did and was hooked.
 "The following year I won three gold medals," he said.
 Briscoe is not alone. Seniors all over the country are finding themselves addicted to the game of pickleball. The USA Pickleball Association estimates there are 100,000 to 150,000 pickleball players in the United States with more than 10,000 players in the retirement community, The Villages, near Orlando, Florida.
 Described as a mix of tennis, badminton and ping-pong, the game is said to be ideal for seniors who want to stay active.
 The game is played in an area a quarter the size of a tennis court, at a slower pace and with a lower net. The ball is similar to a whiffle ball which prevents it from being slammed like that of a tennis ball.
 Wayne Tucker, 75, from Glenville plays the game at least three days a week, and said the size of the court makes the sport easier on the body than tennis.
 "You are not covering too much territory," he said.
 Although Briscoe and Tucker enjoy the competition the game offers them, they said it also appeals to those just looking for some exercise and fun. In addition, they agree the game is easy to learn and doesn't require any previous experience in other sports.
 "My wife never played a racket sport in her life and took to it like a dog to water," Tucker said.
 Another benefit is the physical aspect.
(Continued on Next Page)
Prev Next
Vote on this Story by clicking on the Icon