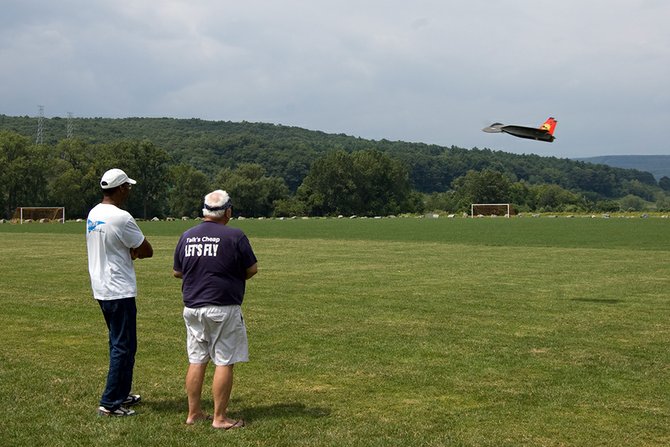 GLENVILLE — Aircraft were soaring across the skyline in Glenville, showing spectators dips, dives and rolls — all from the palm of one's hand.
The Glenville Electric Powered Aeromodelers Club on Saturday and Sunday, Aug. 4 and 5, hosted the John Maggs Memorial Fun Fly, which had all-electric radio controlled model plans zipping above Maalwyck Park. Local hobbyists came out to show off their latest moves and techniques and gave spectators a free show. Food and beverages were also offered and raffles added some more excitement.
Even as the sky darkened and storm clouds moved in on Sunday, Glenville resident Dave Garwood drove up and hit the field, throwing his Tough Jets model T-14 aircraft into the windy air.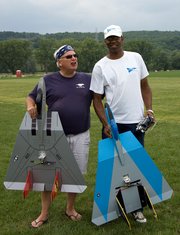 "It seemed cool and it turns out it is fun to fly," Garwood, 63, said.
What he enjoys most is learning new stunts to perform and building his skills on the radio controlled aircraft.
"Showing off is part of model airplanes," he said with a laugh.
The plane he was flying is an inexpensive type, which he likes because he doesn't have to worry about possibly crashing it and smashing an expensive model. Some people joke the Tough Jets style is the "pizza box airplane," but that doesn't bother him.
As others sat and waited for clearer conditions, Garwood was already lifting off.
"A lot of people are afraid to fly in the wind — not us pizza box plane flyers," he said. "Over the years it has been crashed and glued."
The overgrown field next to the soccer fields is where club members usually fly, with town approval, but for the Fun Fly the group rented out the soccer fields to provide a more ideal flying environment.
"You will find guys flying every weekend and you'll find retired guys flying every afternoon," Garwood said.
(Continued on Next Page)
Prev Next
Vote on this Story by clicking on the Icon