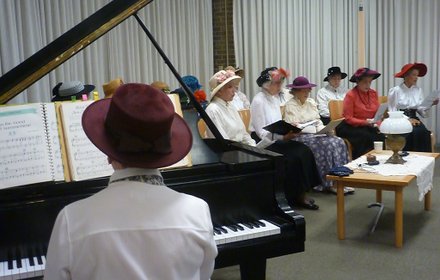 Progress Club helps celebrate Bethlehem Library's centennial
On Saturday, May 11, the 100th anniversary of the library was commemorated with a Founder's Day celebration at the Bethlehem Public Library on Delaware Avenue.
May 15, 2013
The Latest
Business News
Senior Center News
Food&Recipes
Home&Garden
Outdoors
Health&Fitness
Columnists
Senior Spotlight stories

Albany Memorial honors longtime nurse Esther Rappold for decades of service
Friends, family and coworkers gathered at Albany Memorial Hospital to celebrate 80-year-old Esther Rappold's 60 years of service at the facility.

After 42 years working on the links, Colonie resident looks back on career
After almost 50 years of working in the golf maintenance business and 42 years on the greens at Albany's Wolferts Roost Country Club, Bill Stevens stepped off the grass to retire this past April.
Living Resources' modern Guilderland group home to house six residents
Living Resources, a Capital District nonprofit, held a groundbreaking ceremony on Wednesday, May 1, for its group to be located off Ardsley Road in Guilderland. The building was touted as the state's first barrier-free "smart house" designed especially for those with intellectual and developmental disabilities.
Delmar man continues event commemorating D-Day veterans
As what has been called the Greatest Generation ages, finding World War II veterans is getting harder. Tougher still is locating survivors of a single action, even one as momentous and enormous as D-Day.

Congressman fields questions on Affordable Care Act at V'ville library
Rep. Paul Tonko held a forum Wednesday, March 27, at the Voorheesville Public Library to discuss health insurance changes taking effect later this year as part of the Affordable Care Act.
Former Republican chair remembered for his love of town, family, life
For those who knew him well, Harry D'Agostino was more than a longtime Colonie Republican party leader. He was a father figure.
Area seniors are reinventing themselves later in life.
Murray Manor Apartments would be for 55-and-up
Members of the Colonie Planning Board have reservations about an apartment complex proposed to be built on Boght Road after learning the developer's intended tenant demographic.

Beltrone resident's WWII volunteerism acknowledged by Red Cross award
Shirley Sheriff was honored as a 2013 Legacy recipient by the American Red Cross Northeastern New York Region on Thursday, March 7, for her humanitarian efforts during the war.

Annual fundraiser helps out with winter energy bills for non-HEAP eligible seniors
As a 66-year-old retired teacher, Colonie resident Pat Audi worries about the winter months. It's not driving on slick roads or losing power in a storm that bothers her, it's the simple fact that with dropping temperatures, she'll see higher utility bills and start having to make tough choices.

Niskayuna Boy Scout collecting flags at drop boxes for proper disposal
After several years of dedication to Boy Scout Troop 34, Brandon Fine is collecting old, worn American flags for his Eagle Scout project, which was inspired by his late grandfather.