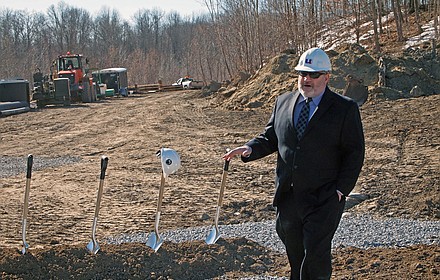 Senior housing development will feature 148 units, active lifestyle amenities
Shovels hit the ground on a new senior apartment complex last week in a bustling hamlet center, around a decade after the project was initially proposed.
March 27, 2015
The Latest
Business News
Senior Center News
Food&Recipes
Home&Garden
Outdoors
Health&Fitness
Columnists
Senior Spotlight stories

Bethlehem man ordained as deacon later in life, seeking priesthood
Many people try to find, and fulfill, what they believe is their true calling in life. A local man, however, feels he found his second calling later in life.

Tonko rewards local man's fight to honor another soldier
A local Korean War veteran's elation was only beginning to subside two days after attending the 2015 State of the Union address, with him proudly pulling his gold-tinged ticket out an envelope.

Albany residents regain perspective of life in storied South End
Once upon a time, the governor took the visiting princess on a journey to survey his capital city. As they both traveled by car over potholed streets and tenant houses in shambles, the governor was said to be embarrassed. Is that not how stories with princesses usually go?

Mayes family has been providing the town tree for the past five years
For the past five years, Majestic Tree Farm has provided the Town of Bethlehem's Christmas tree. Nanette Mayes, who owns the tree farm with her husband, believes they were originally contacted about providing the town tree because they had provided the town with wreaths for around a decade.
Guilderland Garden Club to hold annual Greens Show at Mynderse-Fredrick House
The annual Open House and Greens Show at the historic Mynderse-Fredrick House, located at 451 Main St. in Guilderland Center, will kick off on Friday, Dec. 5, from 4 to 8 p.m. The show continues through the weekend and is open from 1 to 5 p.m. on Dec. 6 and 7.
Colonie resident and author Marian Glass shares her life's philosophy
To those who say growing old brings with it certain expectations, Marian Glass's response is, "Not necessarily." Those two words are the driving philosophy behind her recently published book, "The Human's Handbook: An Owner's Manual for People."

Toy Truck Mobile Museum stops in Slingerlands, showcases its 50-year history
Fascination over Hess' toy trucks seemed to hold an ageless appeal at a recent and rare showing of the entire collection.

Glenmont resident's book for children inspired by a real-life avian visitor to the neighborhood
A wild turkey showed up in a small Glenmont neighborhood two years ago and surprised residents when it tried to make friends with a neighbor's group of free-range chickens.

Golden Trowel Award handed out to local businesses for a second year
Members of the Bethlehem Garden Club have announced the 2014 winners of the Golden Trowel Awards.

Schuyler Bakery celebrates anniversary next month
A line of customers stretched from the register past a glass case filled with pastries to the door, and a bread-cutting machine hummed as it sliced loaves of freshly baked bread.

'Muffin Man' expands fundraising efforts to breakfast in bed service
A basket of muffins might not change the world, but one man is proving it's a good place to start.